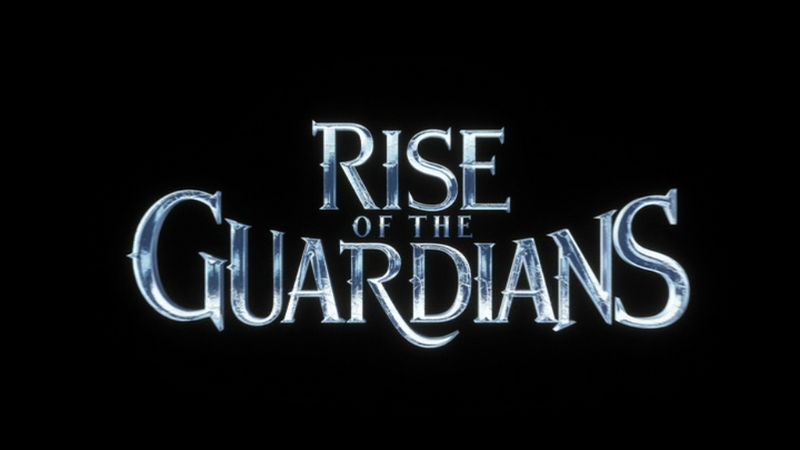 You wouldn't think a children's movie that opens up on what is pretty clearly a drowned guy would turn out to be one of the cutest, sweetest, warmest, loveliest movies ever, but it is. And the fandom? Also one of the cutest, sweetest, warmest, loveliest fandoms ever. With a more than healthy dose of crack to its name.
So, where better to start than with a miniature picspam? Nothing spoilery, just a few shots to set up how damned pretty the film is.
Jack Frost in the Opening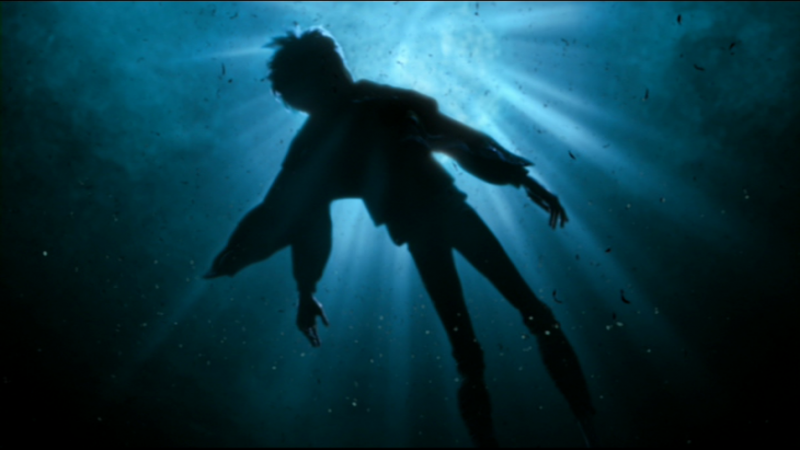 I wasn't kidding about the movie opening up on a drowned guy, but it isn't something bloated and gross, and it isn't presented as miserable either. It's quietly beautiful - and he doesn't stay dead and drowned for long.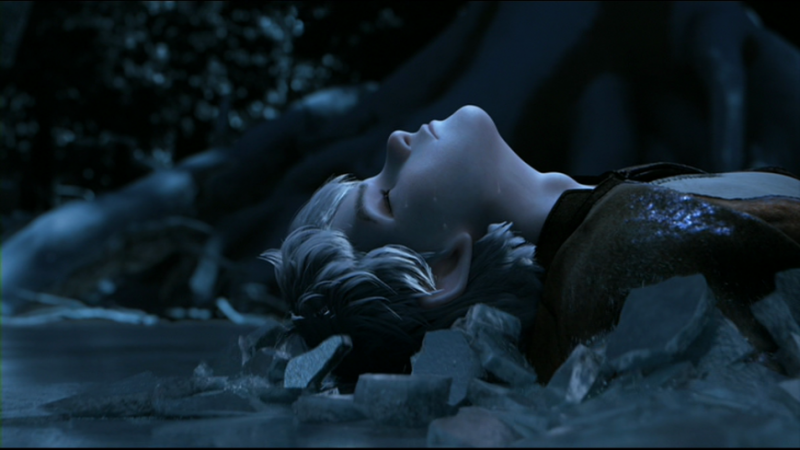 Jack Frost is drawn up through the ice, waking like a baby taking its first breath, and the details here are what first made me realise this was more than a standard animation. You can see water drip from his face, ice tug at his hair, the movement of his adam's apple. It's absolutely spellbinding, and in 3D it brought me to tears.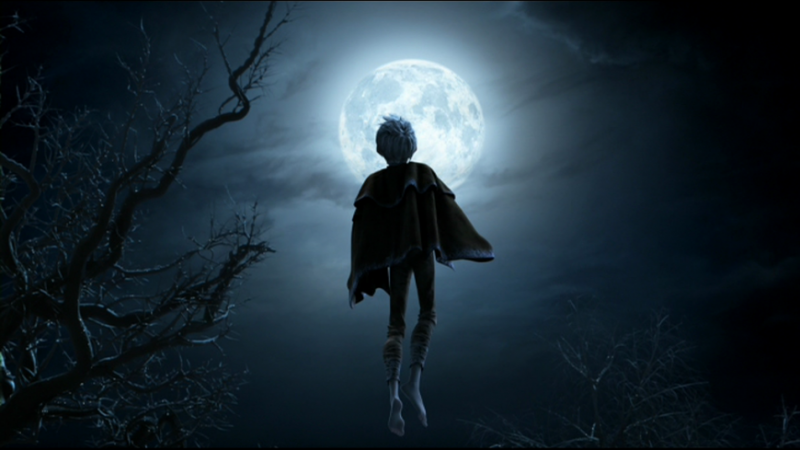 The Man in the Moon is a silent, god-like figure throughout the movie, though in the books he's a bit chattier (more on the books later).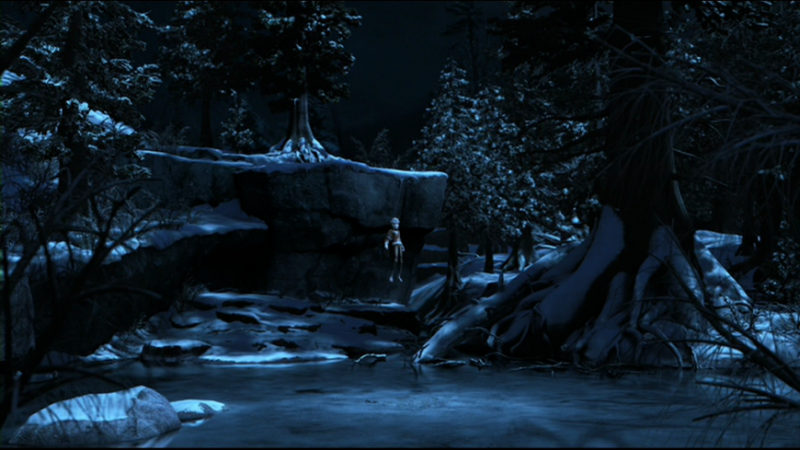 The wide-angle shots in this movie over and over are out of this world. It's one of the only movies I've ever bothered to get on blu-ray just because of the level of detail, and wanting to appreciate all of it. You can see how things move in the wind. You can see Jack's blood vessels under his skin. It's
amazing
.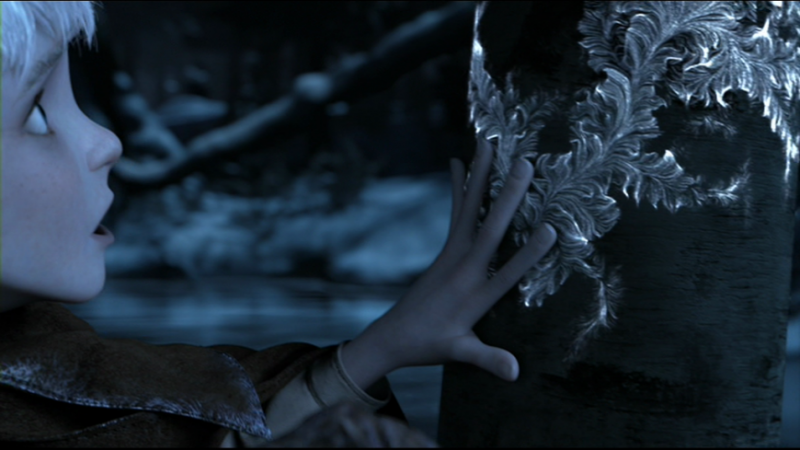 The use of fractals and particles in this movie was one of the details that sold me on it from a techy point of view - they had to create a new engine for coping with the level of detail they went into - and it shows so, so brilliantly throughout the movie. Jack's frost patterns, Pitch and Sandman's nightmare and dream sands - they're all so vivid and alive and gorgeous.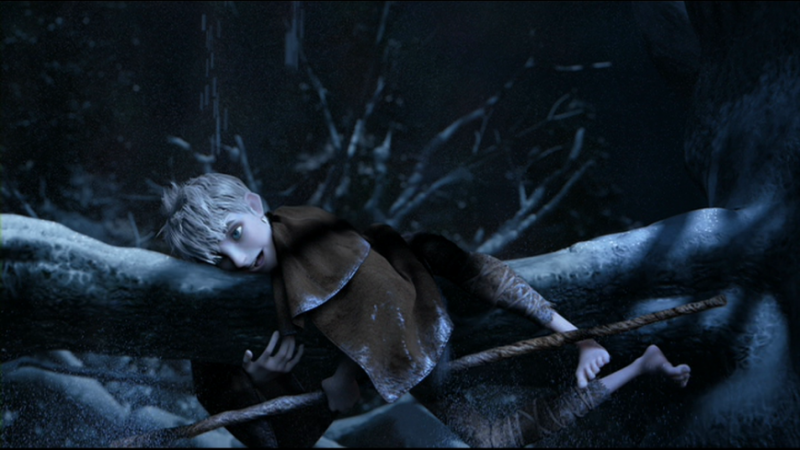 Not gonna lie, I just included this shot because it's adorable and man, I wish I was getting as much love as that branch right about now. Randomly, did I mention Chris Pine does his voice? I wouldn't have expected it to work but it really, really does, and Chris
knocks it out of the park
. He out voice-acts half the professional voice actors I've listened to in other works and I want him to read stories to my children.
Or our children, hi Chris I'm single
Other Characters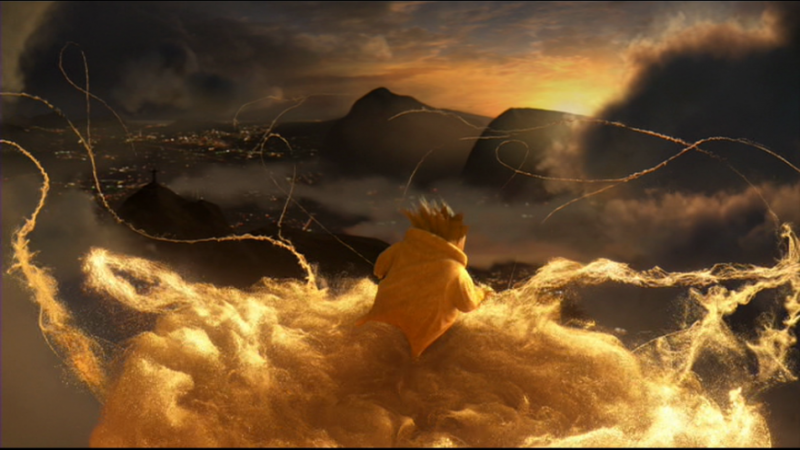 This is Sandman, aka Sandy, aka His Nocturnal Magnificence Sanderson Mansnoozie Sandman the First Lord High Protector of Sleep and Dreams. I'm not kidding about that last part either, though it's only referred to in the books. Sandy is a sassy little shit and everybody with a heart and/or soul loves him. Incidentally, that sand cloud and all those sand waves? Constantly moving. PARTICLE PHYSICS UNF.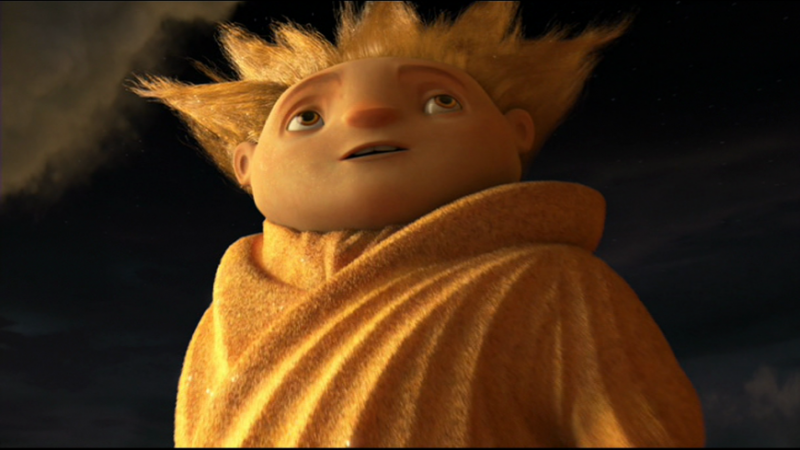 No but seriously I love him he looks like a pillow made of dreams and cotton candy and I want to kiss him all over.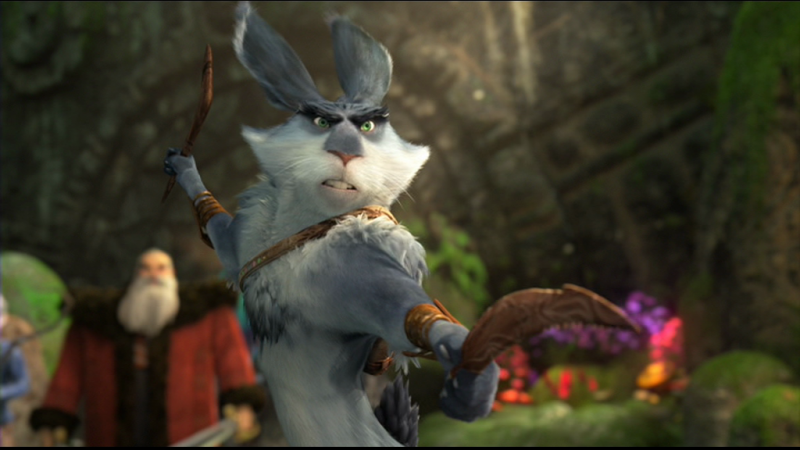 This is Bunny, aka E. Aster Bunnymund, who is voiced by Hugh Jackman and is a snarky badass who is sometimes an arse but has a heart of gold. In the books he just doesn't understand why humans are interested in things that are not chocolate or eggs.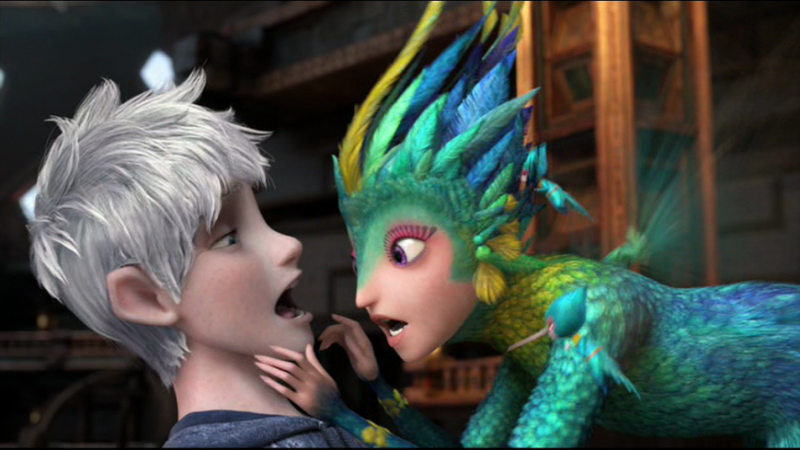 This is Tooth, short for Toothiana, Queen of the Fairies. She's ridiculously beautiful, with hummingbird wings (given hummingbirds are the only birds that can fly backwards and this made animating her wing physics easier UGH THE DETAIL IN THIS MOVIE), and she's a badass herself. She's also sweet and motherly and protective, and I just want everything to be right for her. Oh, yeah, and she may have a slight fixation on Jack's teeth
and maybe Jack himself, teehee
.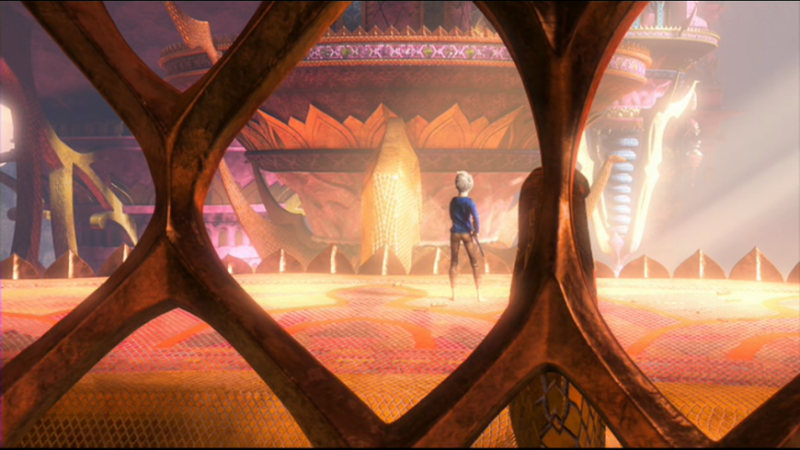 Scenery porn shot from Tooth's palace.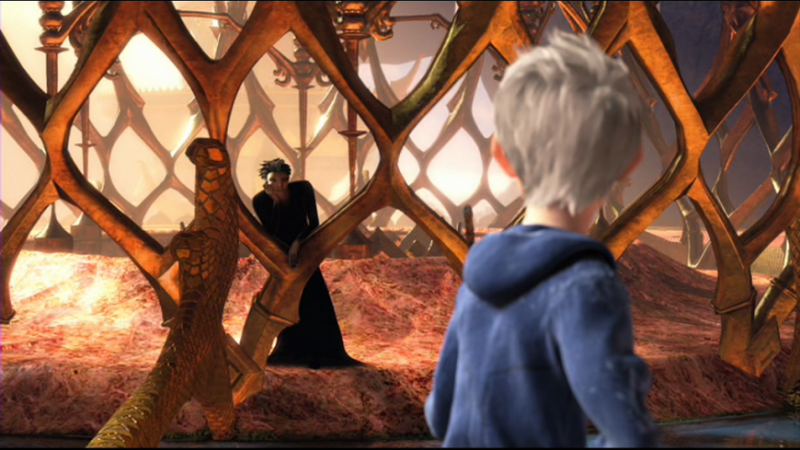 More scenery porn.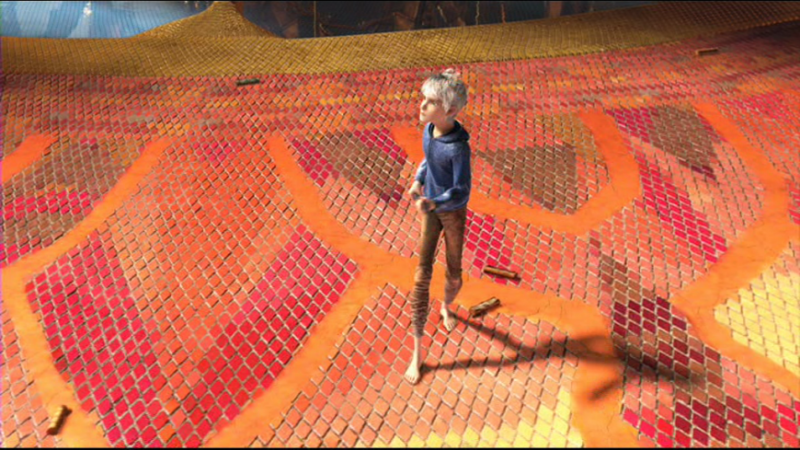 Floor detail from Tooth's palace.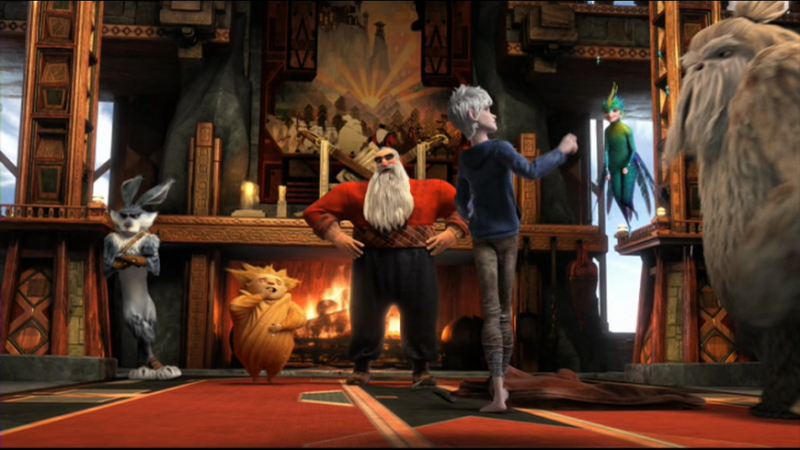 Crowd shot with the last Guardian I haven't named yet. Given he has a big white bushy beard, wears red, and creates toys for children, you have no excuse for not knowing who he is... except that you do, because Santa Claus in this case is Nicholas St. North, former bandit king. He's the unofficial joint leader with Tooth, and everyone calls him North for short.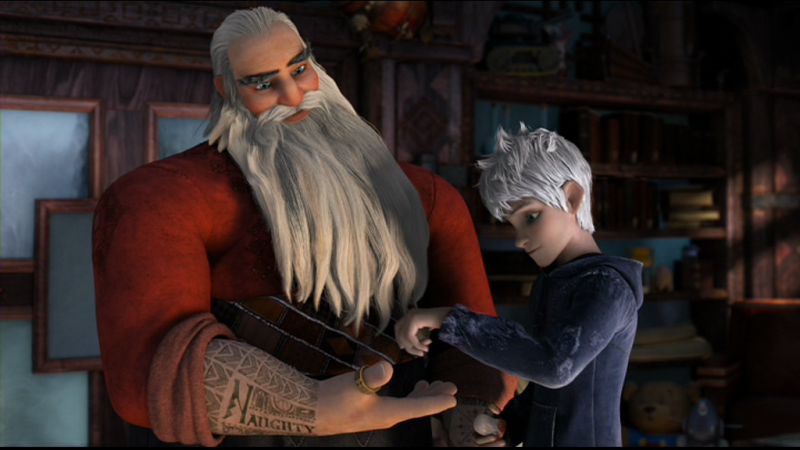 He's big and burly and adorable. Pretty much everyone in this movie is adorable. There are adorable eggs in this movie. There are adorable yetis. There are adorable tooth fairies and tooth mice. IF IT EXISTS, IT IS ADORABLE.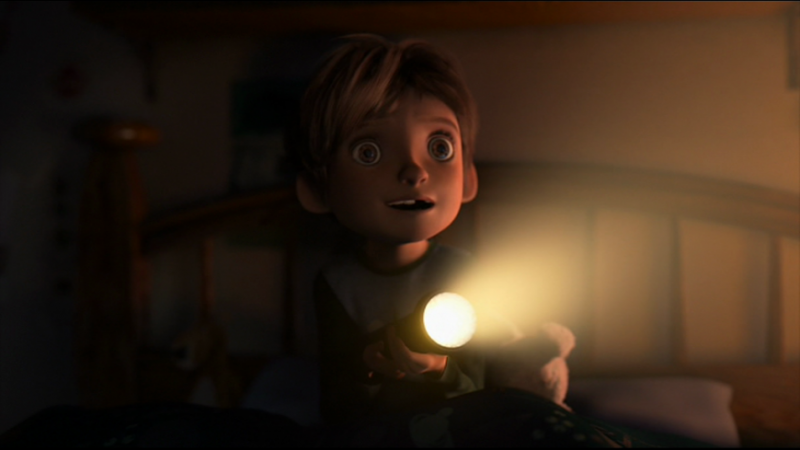 And this adorable little git is Jamie Bennett. Jamie is the kid who should have been that One Annoying Token Human Child except that he isn't annoying in the slightest, he's utterly, ridiculously adorable. He's such an optimist and asks for so little and he's so, so brave, and I love him to pieces.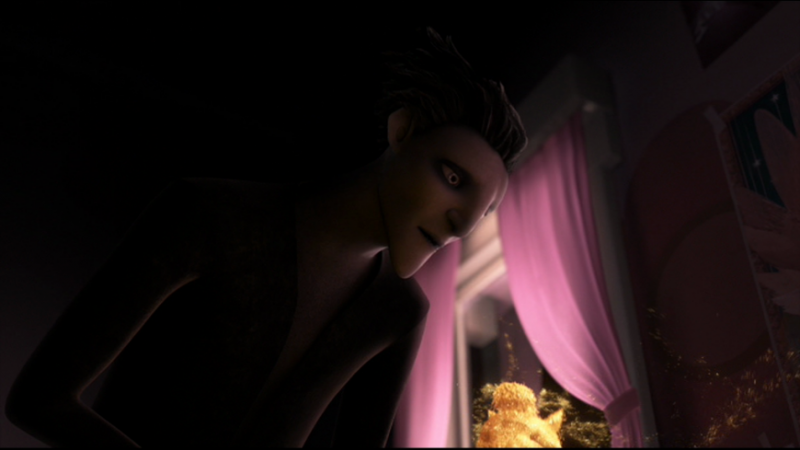 And then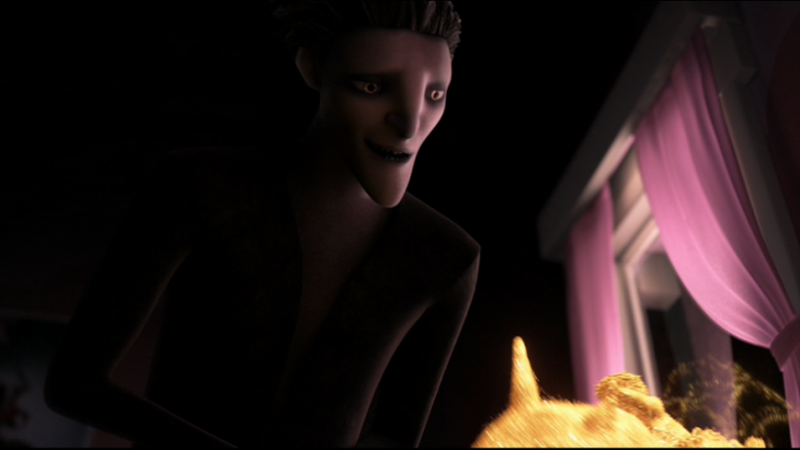 There's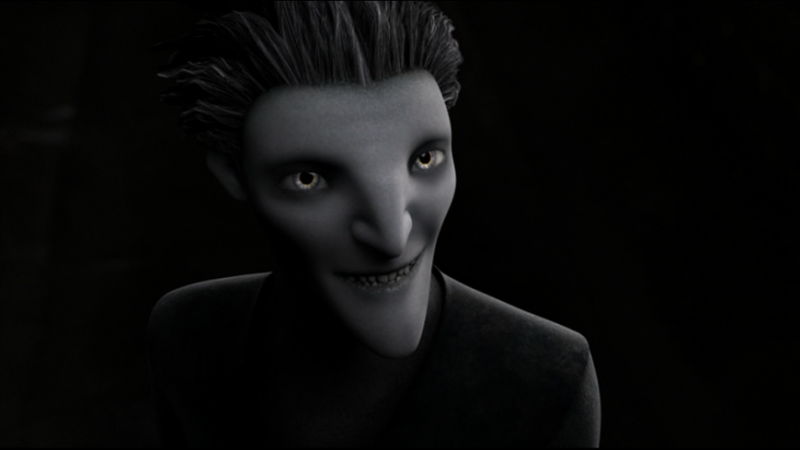 This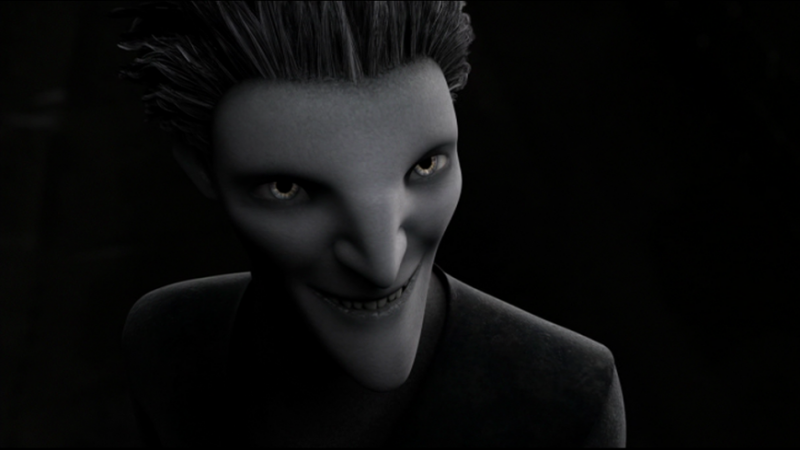 Asshole.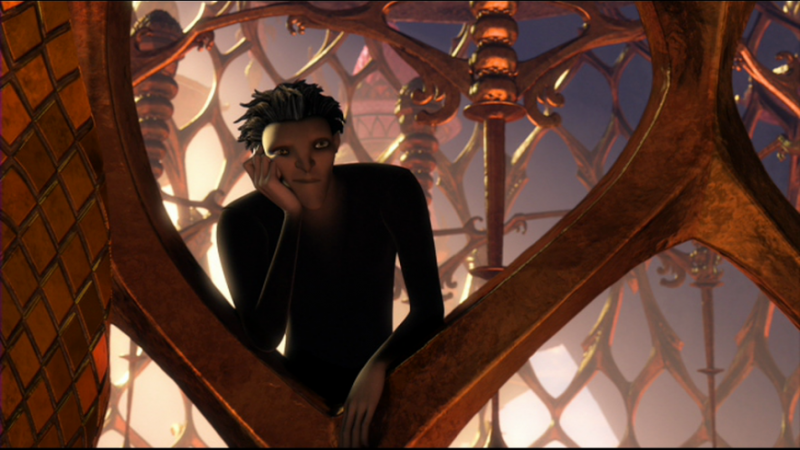 Pitch Black is the villain of the piece. He's the Boogeyman, the Nightmare King. He gains strength from fear, and he is an angry, lonely, bitter little soul whose backstory in the books tears my heart in two. I don't want to spoil it, though spoilers are easy to come across, but suffice to say there are reasons behind his villainy and oh, they hurt.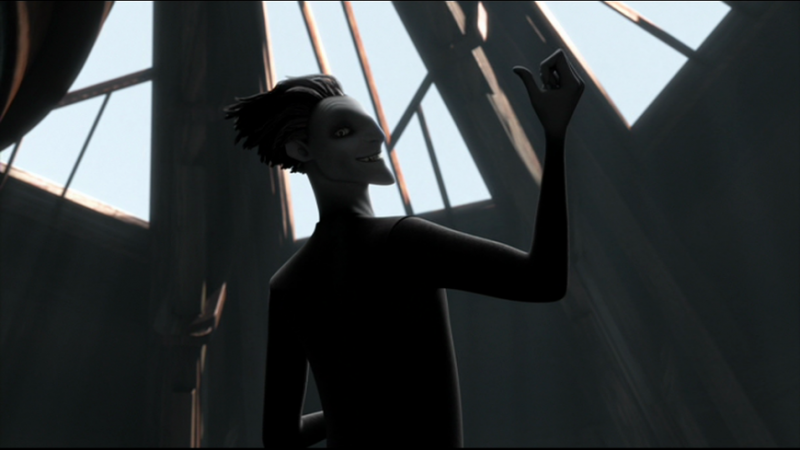 Also, his profile is beautiful.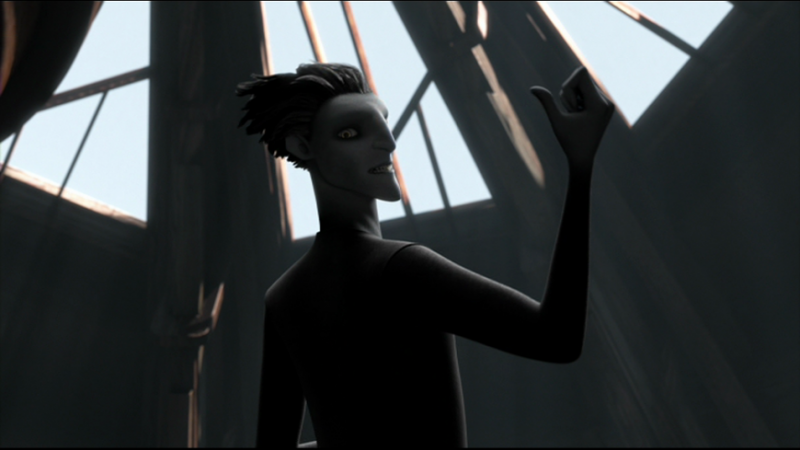 And bad teeth or no, I still want to sit on his face. /TMI
It isn't just the imagery either that makes the movie gorgeous. The music is stunning too, and I've included two of my favourite tracks below.
Please note that the "Jamie Believes" song there, the second of the two songs, makes me cry every single time I hear it because of its context in the movie. It's gorgeous.
As to the books? Well, cruelly, they're not finished yet. And the last one just ended on a cliffhanger. And we have to wait until AT LEAST SEPTEMBER to find out what happens next.
However, they're conveniently split into two sets - the "Guardians of Childhood" series, which are novels aimed at fairly young, but not toddler children (think the first Harry Potter book), and the "The Guardians of Childhood" series, which are picture-books that are so pretty I could cry, and don't follow a strict timeline. The picture-books are like Van Gogh's Starry Night had a one-night stand with Steampunk and created beautiful children, they are glorious and the best investment I've made in forever. The novels are fun and playful and have two additional characters who aren't in the film that are wonderful; Katherine, who is an adventurous and book-smart young girl who I adore for being a girl
written like a girl and not penalised for it
, and Nightlight, who is a mostly-mute fairy-like boy. Katherine and Nightlight have a bit of a Peter Pan and Wendy thing going on, and I love it.
I wish I had more time to go into why the fandom for the movie is also incredible, but I don't think I could do so without spoiling the source material and honestly, in this one case, I don't want to spoil people. I want people to run out and try it and love it.
The movie is beautiful, the books are beautiful, and I think we all need to believe sometimes. Not necessarily in a higher power. Not necessarily in fairies and yetis and elves. Not even necessarily in Santa Claus.
But in
something
. In better things. And it's not bad to have a movie that shows you there's nothing wrong with hoping for the best. <3